VIZ - 3D Visualization

NASA Ames Research Center

Computational Division

Autonomy and Robotics Area
---

Index
What is Viz ?
Projects
Core technology
Picture Gallery
Credits
Related topics and useful links
---
What is Viz ?
Viz is a 3D visualization software which allows data visualization and user interaction with the 3D objects. It comes with a set of applications including science analysis tools for Photorealistic 3D models, planning tools for robotic control and various utilities for telemetry/sequence replay and simulation display. It also provides animation capabilities. Viz is the latest version of the Autonomy and Robotics Area's developments of Virtual Environment for Vehicle Interfaces.

The core technology of Viz consist of a multi-purpose Virtual Environment-based visualization infrastructure. Viz has been designed to allow the user to rapidly tailor Viz to specific applications using a set of defined messages to control and interact with the 3D scene.

Viz currently runs under SGI IRIX-6.5 (tested on Onyx, Octane and O2) and Linux RedHat 5.2.
---
Projects
Viz has been used to support different projects in the Autonomy and Robotics Area (formerly Intelligent Mechanisms Group) at NASA Ames Research Center.
Underwater robot TROV, Monterey Bay, Ocean's conference
Walker robot
Solar Panel robotic task (Carnegie Mellon University)
Distributed Robot Architectures (Carnegie Mellon University)
Mars Polar Lander - Mars Volatile and Climate Surveyor
---

Credits
Point of contact: Laurent Nguyen or Kurt Schwehr

---

Related topics and useful links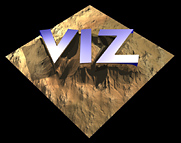 ---
Last modified: July 2001: Mirrored on schwehr.org since img.arc.nasa.gov is no more.